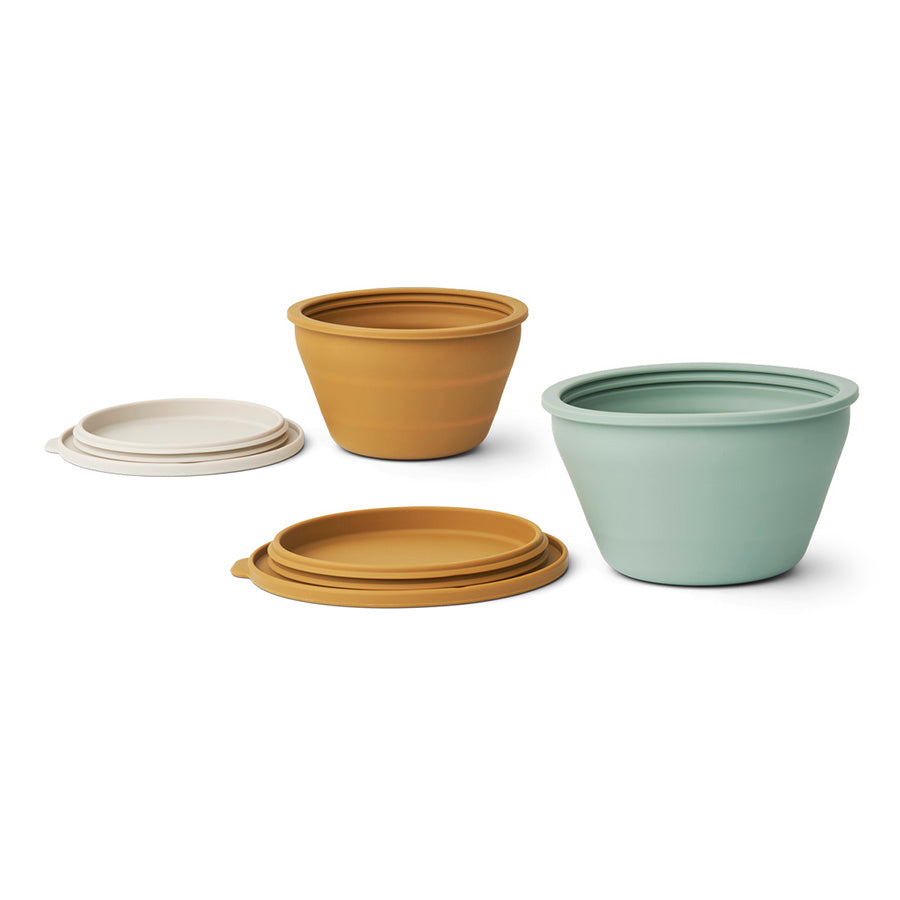 Dining . Foldable Bowl 2 Set - Various Colours
Liewood Dale Set of 2 Foldable Silicone Bowls with Lids in Various Colours
▲ A set of 2 collapsible bowls with lids: designed for easy on-the-go and minimal storage.
▲ Made from unbreakable silicone, which is eco friendly, can go in the dishwasher, and won't break if dropped. 
▲ A great alternative to plastic zip bags and perfect for picnics or days out and about. 
▲ Each set includes one medium and one large bowl. 
These are great for packed lunches - whether they be for school or work! A great purchase that really will be used for many years. 
You can see the whole range from Liewood here. 
PRODUCT INFO:
Size:
Medium: D 12.5cm, H 7.5cm, V 315 cm. Large: D 15.5cm, H 9.5cm, V 765ml. 

Care:

Dishwasher safe, won't break if dropped. 


Made From:

100% silicone, some of the benefits of silicone are: 

• Free from harmful chemicals like phthalates.
• Safe contact with food: LFGB tested, tested according to EU Regulations 1935/2004. 
• Hypoallergenic.
• Soft, does not break if dropped.
• Stabile temperature when in contact with hot and cold content.
• Easy to clean.


Our testing is a safety requirement that ensure, the material does not endanger human health or change the food itself.

About This Brand: 

Liewood creates irresistible products for the modern family – from organic textile products and soft knitwear to our collection of bamboo tableware in beautiful shapes and delicate colours. All together the products create a unique, pure and simple universe. 



Their ambition

 is simple: 

to advocate slow living – creating products that will last for generations.



Liewood

 is based in Copenhagen and their universe is deeply rooted in the Nordic design tradition.