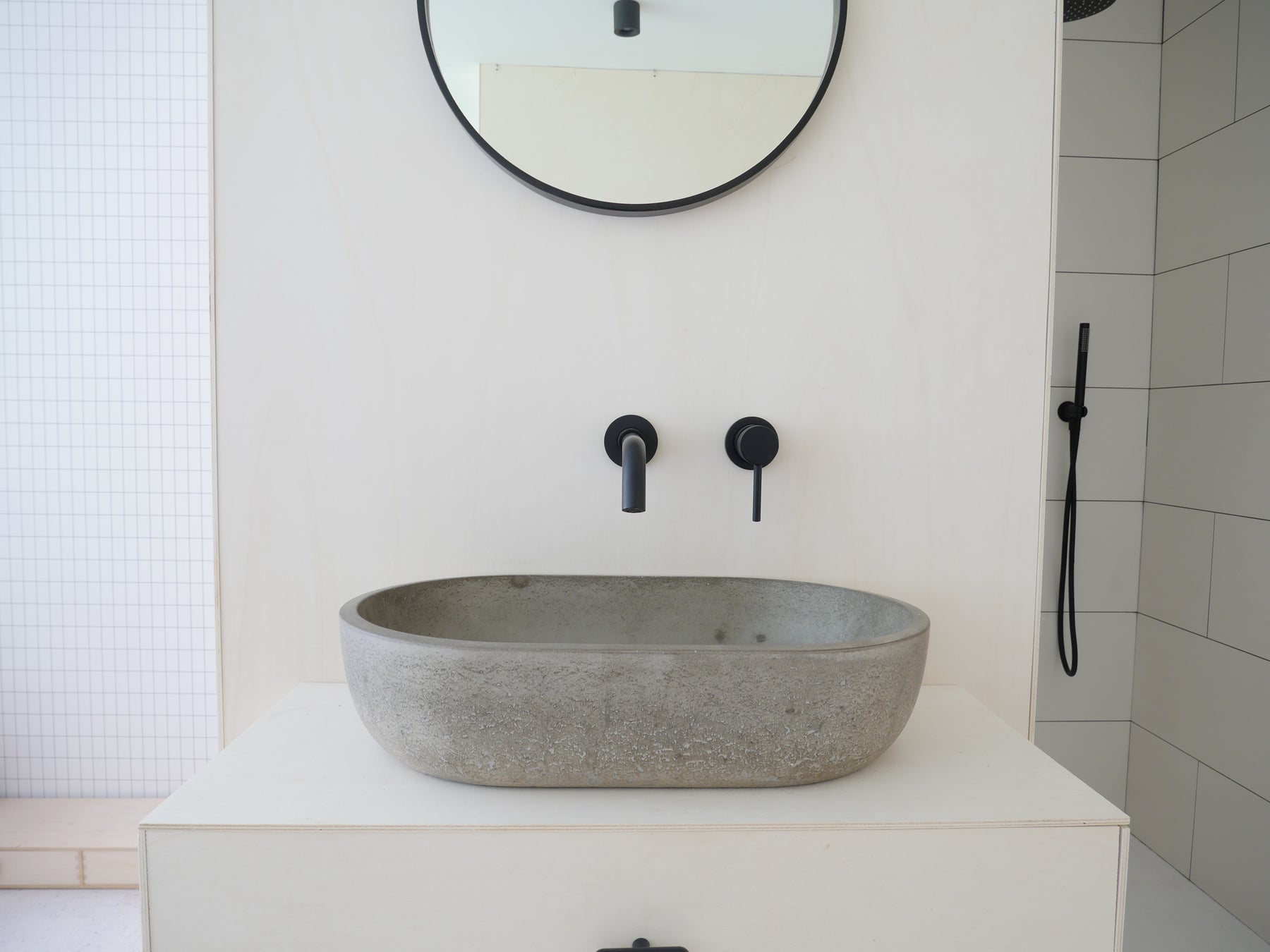 Water Softener
For a long time I've wanted a water softener. I don't remember why I started to look at them! I think I'd read about how they can be really good for your hair, skin and appliances. 
Having gone through washing machines at a speedy rate, I wanted to try and stop that happening, I can't bear the thought of great big machines going into landfill every few years or less because they get so full of limescale they don't work, and it's cheaper to replace than it is to repair. 
I knew we'd have black taps in our new ensuite. While I didn't find the black taps in our family bathroom looked any worse than chrome with limescale, the basin tap has started to peel and now has a big chunk of the black missing, and I wonder if that's from limescale damage. 
We went with the stunning range from Lusso Stone for the en suite. My builder asked what guarantee the taps and shower had - because I'd bought it online he was thinking it would have none at all. He was amazed when I told him that they have a 25 year guarantee! They are not the cheapest (we got a bit of a discount for our reno) and I knew I wanted a water softener to make sure they not only lasted and worked as well as possible, but they were also easier to clean! 
If you've seen the TV show Your Home Made Perfect (we're episode 3) you'll know that we had a tight budget (do they ever have a huge budget?!) of 70k for our extension. I approached Harvey Water softener and asked them if they might be able to help us out with a water softener in exchange for some insta posts and this blog post - I am delighted that they said yes! 
The Harvey guy came over to show me what the filter does - it's non electric so it doesn't cost anything to run other than the salt blocks. He got two bowls and softened the water in one, then got me to see which I thought it was. It was so obvious! My hands felt really soft after washing them in the softened water, and tight and dry after the normal water. I've always had dry skin and my head often feels dry and itchy. I was sold! Harvey's do a 3 month trial of their softeners, if you don't like it after 3 months they'll remove it for you. Obviously they're working on the fact that almost everyone loves it and wants to keep it!
The fitting guy came over really quickly (we needed to get plumbing finished so we could lay flooring) and was joined later by another. They had to deal with the existing plumbing which was 'complicated'. They were so nice, and so patient about it. It was a long day for them trying to work out where all of the pipework went and what it was for. Our mains stopcock was in a ridiculous place that was almost impossible to get to, so they even put us in a new stopcock so that if we had any issues with water in the future we could easily turn it all off! Honestly we were so happy with them, they really went above and beyond without the usual sharp intake of breath that most builders and tradesmen seem to do every 5 minutes when you explain what you need. 
We chose to put it in our hall cupboard next to our shoe storage, as there was a little bit of space and it made sense with the pipework coming into the house. 
Once it was in we started to notice that the stuff in the dishwasher didn't come out covered in bits, things were just clean! The shower screen looked so much cleaner with no effort at all, and the limescale on the old taps even started to disappear. 

Bibi is the youngest and she's always had lovely skin, but her skin started to feel even softer and more edible 😂We don't use shampoo or conditioner for the kids, they just need a good rinse with water and their hair looks great. 

I get dry skin especially on my legs, this has improved hugely, in fact I would say it's not even dry at all any more. My hair feels shinier and cleaner after I've washed it, the softened water means that product doesn't get left behind in your hair. 

Clearly this item is a want not a need, but if you're renovating or if you have hard water, then I think it's a great investment! 

When the salt runs out we definitely notice the difference. You can find out more about Harvey Water Softeners here: 
Just to be clear, Harvey Softeners haven't paid me to write this, they gifted me the water softener in exchange for some Instagram stories and a blog post with what I think of it.