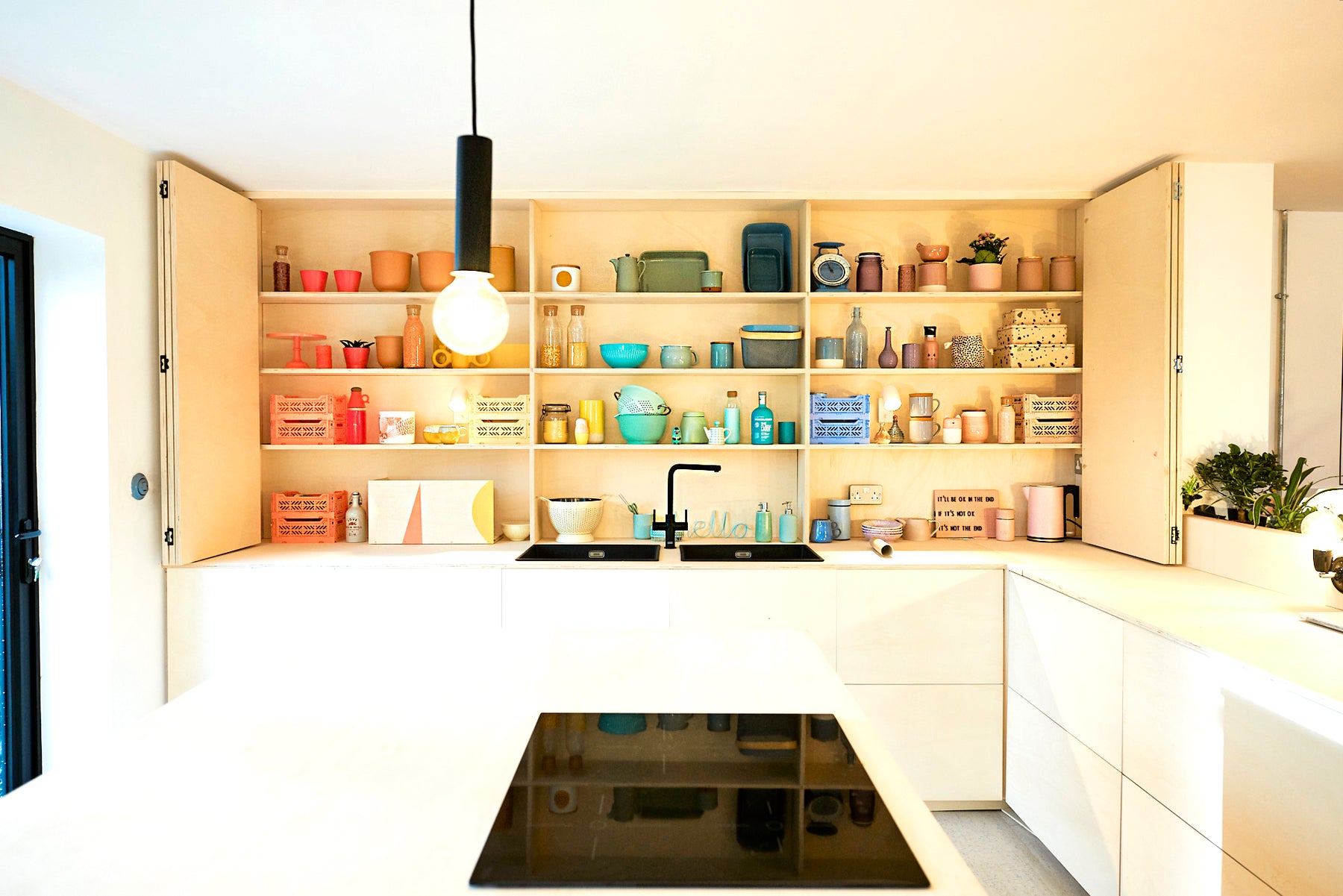 Our new kitchen
So this is our new kitchen! I will write a lot more about this one day soon... I had several different ideas for the kitchen, but this is what we've ended up with and we love it.
It wasn't quite finished when we filmed the reveal and it's still not (much like the rest of the house!) but it's almost there! 
We had a very small budget for the build, so we decided to make our kitchen doors ourselves and used Ikea carcasses. There are a few companies that will do this for you including Custom Fronts, Farmwood and Plykea. 
It was very time consuming to cut the pieces ourselves, so in the end we got our ply cut for us at a furniture making workshop. I then sanded them all and drilled the holes in the back using an old Ikea drawer front as a template. I think this needed to be a bit more precise as I thought there was more adjustment in the drawers. Overall it looks good but it was quite hard to get the drawer fronts to line up perfectly with each other! 
We used plywood for the worktops too. This is temporary but I LOVE it so I hope it will last a long while. 

We used Osmo oil to finish the wood and seal it against moisture and stains. I found it hard to get a good finish at first as I used a paint pad and I liked the way it went on but it left lots of fibres! I added a little colour with steamed beech wood wax finish, I mixed it with some matt clear Polyx-oil varnish so that the colour wasn't too strong. On top of that I used their Top Oil - I love the very slightly milky finish. We were given a discount on the Osmo oil in exchange for some Insta stories, it was recommended to me by lots of people and so far is great! 
Between the kitchen and living room I asked the builders to keep the original thickness of the wall and build a trough into it. I wanted to add some green to the space! Danny's parents bought us a load of plants and planted them up in pots for us 💓 So far we've only killed 4 🙈
I wanted to create something special in the kitchen but I also crave calm and simplicity, so I designed the big cupboard at the end to be either a beautiful rainbow of pots and food, or close the folding doors and it's a sea of calm ply and black appliances. 
Ceiling light Ferm Living £75 (*gifted, we can source these for you, just drop us an email) 
Crates in the cupboard are the mini crates from This Modern Life £5 each
Everything else is a mix of TK Maxx, Dunelm, Ikea, things we already owned and lots of charity shop purchases! A big thank you to Housfolk for going out for the day and shopping for me for this cupboard 💕
Wall lights in cupboard, £18 Ikea. 
Paint on dividing wall Bea from This Modern Life, from £18. 
Wall lights on dividing Wall by Enamel Shades £55 (*discounted) 
Light bulbs from Screwfix £6.99 each 
Plywood by Hanson Plywood Contact them for a price (discounted - we bought A LOT!) 
Sinks and tap from Franke (*gifted) 
Clear teapot by Ferm Living (*gifted)
Tiles on worktop by Bert & May £4.46 each 
Light switches and plug socket from Swtch from £45 (*discounted)
Wall planner by Gayle Mansfield (*gifted) 
Cork flooring by Colour Flooring £44/m (discounted - again we bought a lot so we got a trade and volume discount) 
* Some of our products were gifted or discounted - this is because I approached the companies and asked for a discount in exchange for some Instagram stories etc. I ONLY asked for products I wanted to use and didn't have any random companies approaching me for me to use their products. We had a teeny tiny budget and some of the finishes wouldn't have been possible if we hadn't had a little help!